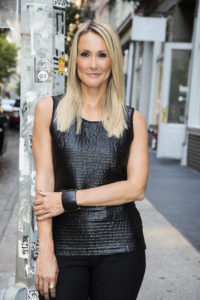 EXPERIENCE
GODADDY, New York, NY
Global VP, Brand Social, 1/18-present
GROUP NINE MEDIA, New York, NY
Senior Director, Distributive Platforms and Talent Desk, 7/16-11/17
Led social product and ad product creation, iteration, and education for the four Group Nine Media brands: Thrillist, The Dodo, NowThis, and Seeker.
Built and led Group Nine's Talent Desk, owning overall strategy, pricing, negotiation, and sourcing talent, inclusive of experts, macro-influencers, micro-influencers, and brand ambassadors.
Developed and priced 16 new social products, educated the Sales team, and launched them across Group Nine's Facebook, Instagram, YouTube, and Snapchat spaces.
Led paid social for Thrillist prior to the Group Nine merger, targeting the right audiences, delivering an engaging content set, and exceeding campaign goals, while performing under budget.
Partnered cross-group with Edit, Creative, Research, Data, and Video to deliver multi-media content experiences that excite audiences and connect them with brands.
Digiday Content Marketing Award winner for Best Use of Real-Time Streaming Video, in our Friendsgiving campaign with Royal Caribbean.
ICROSSING, New York, NY
Head of Social, 3/15-7/16
Led iCrossing's social practice, responsible for managing teams, selling in new business, and driving superior business results for a national portfolio of clients.
Delivered results-focused, social programs built around eight pillars: Strategy, Content, Listening, Amplification, Paid, Analytics, Real-Time, and Live Events.
Presented winning case studies and POV around how industry changes and emerging technologies impact marketers, as a speaker, blogger, Forrester and Digiday resource, and Cannes Lions delegate.
Led the real-time marketing effort, content set, and listening-response effort for ten targeted audiences, in support of the LG US Super Bowl 2016 commercial and campaign.
Senior Director, Social Media Strategy, 6/14-3/15
Lead the social media strategy, content set, reporting, and Advocacy Engine for LG USA Home Appliances, Electronics in 5 platforms: Facebook, Twitter, Google+, Pinterest, and YouTube.
Defined the brand Messaging Framework that guides all posts in social and launched a process for LG to engage in real-time tweets, in effort to drive conversation volume and advocacy.
Planned and executed a content set and playbook with Neil Patrick Harris, LG Brand Ambassador in the #ArtofthePixel competition, including a Google Hangout, a robust posting schedule, and a gala event.
Created the social strategy for the 2015 Consumer Electronics Show (CES), resulting in a 116% rise in mentions, two of the top 10 trending hashtags, and one of the top five brands of all CES.
WUNDERMAN,  New York, NY
Director, Social Media Strategy Land Rover USA, 5/13-6/14                                                                                                                  
Led the social media strategy and implementation for Land Rover USA in seven platforms: Facebook, Twitter, Google +, Instagram, Tumblr, Pinterest, and YouTube.
Managed a team of community managers, growing their skill sets, educating on brand vision, encouraging innovation, and measuring performance against clear goals.
Defined a brand voice and earned client approval to start responding to fans for the first time ever in social, resulting in higher engagement overall, more brand loyalists, and vehicle sales.
Created an Auto Show playbook designed to support global markets, drive +4 Million impressions on Press days, engage with influencers, and deliver the most engaging content the brand has ever produced.
Developed a content set that was recognized as one of the 51 best blogs on Tumblr in The Tumblr Theme Index and was invited to speak at Tumblr Tuesday.
CONSULTANT, New York, NY
Social Media, and Public Relations, 9/12-5/13
Helped to re-energized organizations, with clients such as the largest appliance manufacturer in the world, a U.S. State Senator, and the world's leading online marketplace for rare furniture and antiques.
MICROSOFT CORPORATION, Redmond, WA
Social Media Marketing Lead: Microsoft Store, 3/12-7/12
Led the social media strategy for Microsoft Store (40+ brick & mortar retail stores and http://microsoftstore.com), the only place where every Microsoft product intersects under one roof.
Developed a promotion that made Microsoft Store trend in Twitter on Store opening days and doubled as a coupon, resulting in hundreds of customers returning to the Store to take advantage of the discount.
Content Creator and Instructor: Windows and Windows Live, 5/10-3/12
Wrote the UI and Help content set for the Out of Box experience in Windows 8, and wrote content for the Windows Live blog, to tell the brand's story to 80,000+ monthly readers.
Designed and presented original curriculum in the Microsoft Store to engage, empower, and inform customers on how to use Microsoft products and services. 
Public Relations Manager: MSN, 7/09-5/10
Crafted the MSN story and shared it externally by launching and authoring MSN's first corporate blog (http://msnblog.msn.com) to engage MSN with the press, partners, and customers.
Led the content strategy for The MSN Blog, including: designing a topics calendar, writing content, and owning the release schedule to ship 8-10 blog posts to 80,000+ readers per month.
Global Communications Manager: MSN, 2/08-7/09
Led major components of the internal communications strategy for a Microsoft organization with 5,000+ employees in 46 markets.
Worked with two CVPs in Microsoft's Online Division by ghost writing email messages and blog posts, building All Hands decks, and designing communications plans that supported org-wide decisions.
Program Manager: MSN, 10/05-2/08
Brought communities onto the MSN network through Message Boards and new Department pages.
BELLEVUE SCHOOL DISTRICT, Bellevue, WA
Teacher: AP Senior English, Honors Composition, American Literature; Bellevue High, 2/02-10/05
Presented five original daily lesson plans while simultaneously assessing students' grasp of subject matter against the day's set learning objectives.
EDUCATION
UNIVERSITY OF WASHINGTON 
B.A. English, 2001
Master's degree in Teaching, 2003